GFNY Alpes Vaujany: Tough Climbs in the French Alps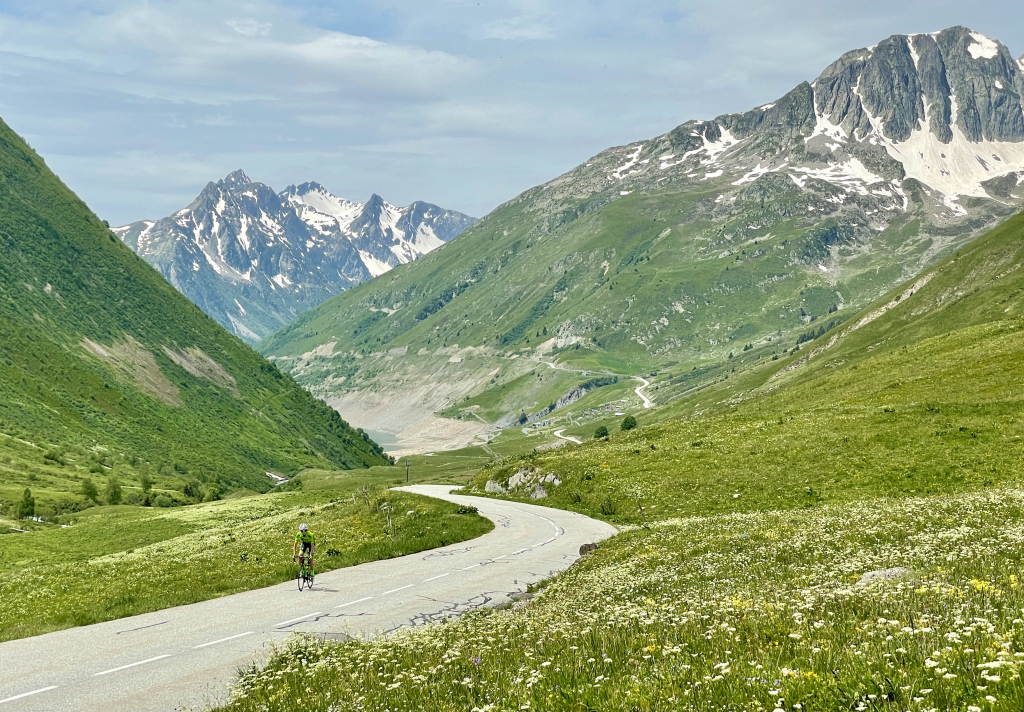 Riders will be tested as they tackle famous giants on August 29, 2021
GFNY Endurance Sports Series returns to the French Alps for the second time this year with GFNY Alpes Vaujany this Sunday, August 29. The race has a long course of 121 km and a (non-competitive) medium course of 45 km.
The long course includes the demanding 25 km climb up Col de la Croix de Fer, which stands at an altitude of 2,067 meters. After the descent down into the Maurienne valley, the second giant awaits, Col du Glandon (1,924 meters). After descending from there, the race finishes back where it started with the steep 5 km climb to Vaujany.
The medium course turns around two thirds up Col de la Croix de Fer at Lac de Grand'Maison. It's ideal for riders who want to get a taste of the race.
The week long GFNY Camp already commenced with an international set of riders from France, Germany, Colombia and the United States. On the menu are all the famous cols of the area such as L'Alpe d'Huez and Col du Galibier while keeping on sharpening the legs for race day instead of tiring them out.
Race host Vaujany is a charming mountain village in the French Alps, surrounded by many well-known climbs.  "It's a no-brainer for us to hold even two GFNYs per year in Vaujany with a race in June and in August ," says GFNY CEO Uli Fluhme. "It's just that great of a location. You can draw two entirely different courses with both having legendary climbs, whether it's L'Alpe d'Huez or Col de la Croix de Fer. And Vaujany is the perfect host village with its amazing facilities and incredibly beautiful surroundings."
Website: vaujany.gfny.com
About GFNY Global Endurance Sports Series
GFNY Global Endurance Sports Series is a sports event company with three decades of experience in racing, planning and organizing events. The global endurance sports brand hosts multiple events throughout the year around the world on five continents.
Working with partners around the world to deliver a first-class experience, GFNY Global Endurance Sports Series puts their athletes first.
Cycling
20 plus events around the world. View the 2021-2022 calendar here
Riders get to BE A PRO FOR A DAY ® by competing against others, themselves and the clock in a personal endurance challenge.
Top 10% (20% at regional championships) of finishers in each age group qualify for the Racer Corral at every GFNY World event.
GFNY World Championship NYC
The 10th annual GFNY World Championship New York will be held on May 15, 2022. The race features the world's most international peloton with riders from over 90 countries. Athletes take on a challenging 100-mile route from NYC to Bear Mountain to Fort Lee to compete against each other, the clock and themselves in a personal endurance challenge.
The official GFNY website is: www.gfny.com.
Further Material for Media Use
GFNY Alpes Vaujany video: here
GFNY Press Images: here
GFNY World calendar graphic: here
Previous GFNY press releases: here
Media Contact